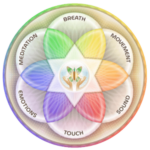 Biodynamic Breathing and Trauma Release System  BBTRS
Initial session with 2 hours including consultation
Sinu seansid on "fikseeritud hinnasildi vabad" ja seda põhjusega – iga indiviid on unikaalne ja sama unikaalne on iga indiviidi kogetav väärtus seansi raames. Ning väljendada oma kogemuse väärtust rahas, tead õiglast panust vaid Sina.
Minu kingitus Sulle on pakkuda see võimalus!
Ma mõistan täielikult kui "fikseeritud hinnasildi vaba" lähenemine on pisut võõras ja ebamugavust tekitav, siis tea, et see pole minu eesmärk. Pakun Sulle allpool alternatiivset paindlikku hinnaskaalat, mille raames saad teha oma "väärtuse" panuse.
90€
you are financially insecure
175€
you are financially secure
We agree on each subsequent session, its length and financial contribution individually.
BBTRS Biodynamic breathing and trauma release system
BBTRS e BioDynamic Breathwork & Trauma Release System® on 6-l elemendil baseeruv biodünaamilise hingamise teraapiavorm mis võimendab keha loomulikku tervenemisprotsessi algusest lõpuni, vabastades kroonilised pinged ja restruktureerides kehasüsteemid rakutasandil.
1 Hingamine – BBTRS kasutab sügavat ühendatud hingamist, et laadida keha, aktiveerides spetsiifilisi lihaspingete ja emotsionaalsete mustrite segmente kehas. Seansid on kavandatud seeriatena, et stimuleerida ja tasakaalustada teie keha ja vaimu pealaest jalatallani.
2 Liikumine – BBTRS kasutab nii somaatilisi kui ka loomingulisi liikumisharjutusi, et võimaldada kehas vibratsiooni tekkimist ja vabastada keha kudedesse kinni jäänud energiat.
From playful warm-ups to full-body shakes and undulating spine waves, movement is key to what makes BBTRS® truly transformative.
3 Sound -the effect on our nervous system is truly remarkable. It is one of the most powerful and supportive tools we can use during our BBTRS sessions. Sound is a huge resource in our body that creates movement.
4 Puudutus – BBTRS kasutab teadlikku puudutust paljudel tasanditel, alates keha energeetilisest väljast kuni kontaktini põhilihastega. Seda rakendatakse tundlikult, et suurendada teadlikkust ja toetada energiavoolu.
5 Emotions - Soft emotional release can be part of a BBTRS® session, but not the goal. The deepest goal is to stay present in the moment and observe the deeper feelings and sensations - and when necessary, return to your sense of security. This balance is the key to the BBTRS® approach. It supports trauma release and integration into release and does not overwhelm the body by reliving traumatic experiences.
6 Meditatsioon – on koht, kus BBTRS algab ja lõpeb. Seda kasutatakse selleks, et toetada resonantsi ja integratsiooni terapeudi ja kliendi vahel. See on ka puhkeseisund, millesse keha ja vaim sageli pärast BBTRS seansse naasevad.
BBTRS hingamisteraapia süsteem on veel selles mõttes unikaalne, et tema elemendid on kasutatavad erinevates praktikates ning seetõttu kombineerin ma BBTRS-i ka MER sügava kehatööga (https://tltp.ee/mer-teraapia/).
When coming to the session, dress comfortably (or take comfortable clothes with you) so that you can move well and freely (skirts, dresses and tight pants are not the best clothes during the session). It is also good if 2-3 hours have passed since the last meal, so that the body does not have an excessive burden in the form of digestion.
Contraindications:
BBTRS is definitely contraindicated in clinical mental illness. Also, in the case of various heart diseases, you should ask your doctor for permission in advance.
The feeling was somehow more serious after all the times, or rather more grounded. The session itself was powerful and liberating. I felt whole, energy was moving smoothly and I was connected to myself. The degree of sensitivity has become more acute. I am extremely grateful to you that our paths met in Turkey and we have continued to communicate. Your transformation has also been very powerful and I am so grateful to have been a part of it ... and what You have given me is wonderful ... This whole breathing session is like peeling an onion, moving layer by layer towards your true nature. The way you create space and be present is so beautiful and safe ... thank you, thank you, thank you!